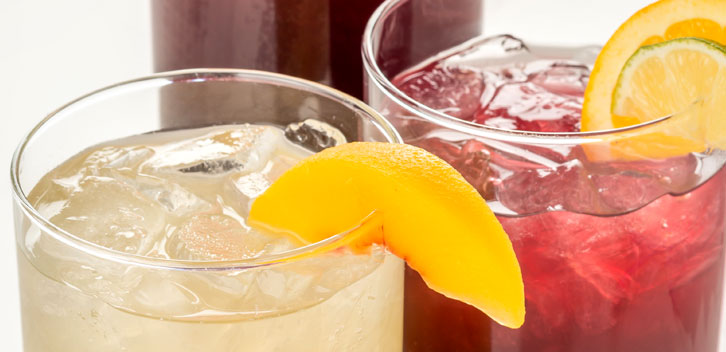 Time for a Cocktail
---
Warehouse White Melon Sangria
Refreshing white sangria with a fresh melon citrus twist. Mixed with Riunite Bianco, a sweet wine and Deep Eddy Ruby Red Vodka.
Warehouse Red Sangria
A fresh new recipe made with Riunite Lambrusco, brandy and a very berry kick.
Available by Glass, 1/2 Carafe, Carafe or Pitcher.
Warehouse Mules
Pick a flavor of Deep Eddy vodka to go in this NEW Warehouse Classic! A Warehouse Mule is a refreshing mix of your choice of Deep Eddy Vodka, fresh lime juice, topped with Q Brand Ginger Beer. Pick your flavor: Classic, Peach, Citrus, Ruby Red Grapefruit, Cranberry or Orange.
Italian Lemonade
A fresh mix of our famous house lemonade, Deep Eddy Lemon Vodka, Amaretto Disaronno and a hint of fresh basil.
Warehouse L.I.T.
Hand shaken with premium vodka, gin, rum, Limoncello, Sweet & Sour, topped off with a splash of Coca-Cola.
Mama Mia's Bloody Mary
Special blend of ABSOLUT Pepper Vodka and our House-made Bloody Mary Mix using fresh Italian spices.
Italian Margarita
A true taste of Italy! Our Italian Margarita is made with el Jimador Reposado Tequila, Amaretto Disaronno, Agave Nectar and fresh lime juice.
Frozen Limoncello Lemon Drop
A sweet blend of Caravella Limoncello and Deep Eddy Lemon Vodka come together to make this a new favorite!
Frozen Peach Bellini
A refreshing blend of Deep Eddy Vodka, Real Peach Purée and Italian Prossecco blended together.
Explore Our World of Wines
---
White and Rosé Wines
SWEET & FRUITY
bianco, riunite, italy
Riesling, Chateau Ste. Michelle, Columbia Valley
Moscato, Caposaldo, Italy
CREAMY
Chardonnay, 14 hands, columbia valley
Crisp
Pinot Grigio, cavit
Sweet Rose/Blush
Rose, Rosatello, Italy
White Zinfandel, Sutter Home, California
Sparkling
Prosecco, Maschio, Split Bottle
RED WINE
SWEET
Lambrusco, riunite, Italy
FRUITY
Merlot, Jacob's Creek, South Australia
Pinot Noir, Mark West, California
Rich
Cabernet Sauvignon, 14 Hands, Columbia Valley
Smooth & Spicy
Chianti, Ruffino DOCG, Italy
Craft, Domestic and Import Beers
---
Ask your server for our entire list.
Family Refreshments
---
Italian Soda
Try one of our house-made sodas shaken with fresh fruit purée and lemon juice topped with soda.
flavors
Kiwi, Black Cherry, Strawberry, Peach
fresh brewed iced tea
Sweet or Unsweet
Strawberry Lemonade
Fresh squeezed lemonade and strawberries create a unique and refreshing drink.
soft drinks